Our Laundry Detergent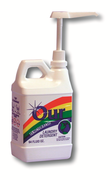 Our laundry detergent is biodegradable and safe for both septic systems and the environment. It is highly concentrated and low sudsing making it compatable with high-effeciency (HE) washing machines. Our detergent requires no pre-treater, fabric softner, detergent for delicates, additives for hard water, or bleaching agents.
Purchase by:
single half-gallon bottle
case of six (6) half-gallon bottles
case of eleven (11) half-gallon bottles
*Dispensing pump sold separately.
---
Our All-Purpose Cleaner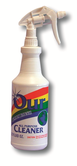 Our all-purpose cleaner is a versatile cleaner. It can be used to clean any hard surface. From the kitchen to the bathroom to the garage and more, use Our all-purpose cleaner for them all.
Purchase by:
single quart bottle

case of six (6) quart bottles

case of 19 (nineteen) quart bottles

*one sprayer included per order
---
Our Powder Cleaner

Our powder cleaner was developed to be used along side Our degergent. It is a peroxide based cleaner used to assist Our degergent. Our powder cleaner offers significant soil removal, whitens white clothing, and will not fade colors. Unlike some bleaches/boosters, Our powder cleaner can be used in hard water environments. Use one (1) ounce per washload.
Purchase by:
7 lb. tub

10 lb. refill bag

---